Smoking on U.S. university campuses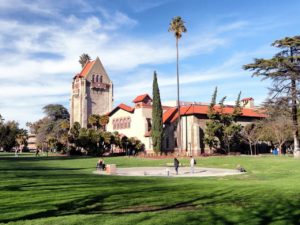 I was extremely fortunate to be a college student in the late 1970's and early 1980's. It was the heyday of freewheeling student life in the United States. After the campus protests and unrest of the 1960's, students were allowed a great deal of freedom and autonomy once things settled down. Things differed from campus to campus, but when I arrived at the State University of New York at Stony Brook in 1978, it was quite the swinging place.
The legal drinking age was 18 and there were frequent parties, especially on Thursday evening, as many campus residents lived close enough to go home for the weekend. There were 6-7 student-run bars on campus. Other psychoactive substances, especially cannabis, were also highly popular. In fact, I would say marijuana was even more commonly used than alcohol. Students got high openly and in public places everywhere on campus with no consequences. I once went to a holiday party in a college lounge which featured a Christmas tree decorated with Quaaludes (methaqualone–a depressant widely regarded as an adjunct to sexual activity). LSD and other psychedelics were also big, and to a lesser extent, cocaine and, during exam periods, amphetamines, all fairly out in the open. If you had told me then that there would come a day when you couldn't even smoke a TOBACCO cigarette on many US campuses, I would have said you were out of your mind.
You could smoke just about anywhere on campus. Residence questionnaires asked whether one smoked or not, but it meant little. Very occasionally, a professor would ask that there be no smoking in the classroom, but this was rare. The anti-smoking crusade in society in general had not yet begun in earnest.
The "Reagan Revolution" of the 1980's sought to eradicate the legacy of the '60's and as such brought increasing restrictions on student life. The Reagan administration resuscitated the War on Drugs and pressured crackdowns throughout society. Most significant was the raising of the drinking age, after several years of media and government focus on drunk driving and other dangers of alcohol. Thought there was resistance, older people, who wouldn't be affected, didn't offer much support. Now alcohol and drug consumption were underground, though on my campus a few bars remained opened, serving (allegedly) only those 21 and over.
Similarly, as the anti-smoking movement grew in power (as part of a growing concern with health and a rising neopuritanism in synch with "cleaning up" society), smoking became more and more restricted. First, classrooms were all declared non-smoking. Then, smoking was restricted to certain indoor areas. Finally, even that was too tolerant and in the 1990s, smokers were banished outside. Anyone familiar with the progression of antismoking policies will be familiar with this sequence. Cigarette machines disappeared first, as they did in other places, leaving only a couple of small kiosks and deli-type stores at which to obtain smokes. The FSA, which governs all economic activity on campus, finally succumbed to pressure to stop selling tobacco anywhere on campus. I should mention here that a major part of the university is a huge research hospital and the argument was made that they university shouldn't be selling tobacco products when all this research about tobacco was being done.
The hospital and adjacent East Campus were the first places to ban smoking everywhere, in 2009, even outdoors, though you could see hospital visitors violating it and rumor had it that a home for elderly veterans had a smoking room. Before a blanket ban on West Campus, there arose a student anti-smoking group, seemingly out of nowhere. At first, they went around to off-campus landlords, encouraging them to discriminate against smokers in renting living space. They also made shows of collecting cigarette butts to make the case that smokers were responsible for most of the litter on campus. They didn't collect soda cans, candy wrappers or anything else commonly tossed on the ground to advocate for banning those products. I guess they're leaving that for anti-sugar activists when they come into their own.
This group disappeared after tobacco use was banned entirely on all 1,454 acres of Stony Brook University –even chewing tobacco, I guess, in 2016. Signs everywhere proclaim that Stony Brook is "proud to be tobacco-free", in much the same way that public schools have such signs attesting to the institution's "drug-free" status. A friend smirks whenever she drives by that sign outside of her old high school.
So if you're on campus and want a cigarette and you don't have a car, you're supposed to go off campus, which is a considerable hike from most places. I only go to campus once a week and have no idea what students and employees do. I'm sure there are hiding places. I wonder what the cumulative psychic effect will be of driving so much underground.
Another State University campus, this one smaller, more vocational and working class, has three "designated tobacco use" areas: bus shelters with receptacles for butts. Though the campus is fairly small, they're not particularly convenient to much of it, certainly not for a smoke in the ten minutes between classes. Also, many jurisdictions have now raised the age to legally buy tobacco to 21, so it's argued that the "children" must not see anyone smoking or they'll get bad ideas. I wish I could say there were some signs of hope, but it's difficult. The Covid-19 crisis has demonstrated that the majority of the US public will accept any level of intrusion into their lives, just so long as it's presented as being for their own good. Of course, there is resistance, and who knows that that resistance may not grow into something that will push the pendulum to swing back towards freedom and tolerance.