Gian Turci died 10 years ago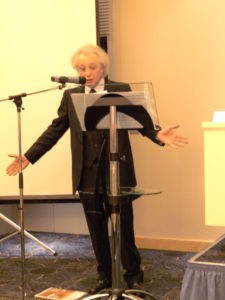 On March 10, 2009, a leading figure of the international antiprohibitionist movement, passed away. The Italian Gian Turci, died after a severe brain hemorrhage. Gian was Director of the International Coalition against Prohibition (TICAP), President of Forces Italy, International Coordinator of Freedom2Choose (UK) and CEO of Forces International. Especially in the latter office he grew to be the powerful voice, the sharp intellect and the organizational nerve center of the global fight against the discrimination of lifestyles and health fascism.

After obtaining a degree in engineering in Italy, he moved to Canada where he spent the next 25 years of his life. With growing dismay Gian witnessed the creeping trend of this formerly free country towards nannyism. When the day came the henchmen of "Public Health" demanded him to stop smoking in front of his children, he began to fight back. The successful entrepreneur in the field of alternative fuels had been dedicating himself completely to the war against prohibition since 1997 – and he always knew it is not just a discussion.

After his return to Italy (along with his wife and kids), he founded FORCES Italy. Earning only little money in his new job as an interpreter, he uninterruptedly coordinated the groups' activities from Genoa. "I consider myself a person in exile – in many ways", he once said in an interview. From morning till night, he initiated and spearheaded numerous projects. He wrote, edited, translated countless articles and other texts, he communicated, broadcasted and thus became the most reliable resource of this movement. He went out on a limb and worked more than one can expect from anybody over such a long period. Gian sacrificed himself to the liberty he held dear.

FORCES International, in its heydays the flagship of our movement, owed its clear-cut and uncompromising profile to a large extent to him. Due to his straightforwardness, he was controversial with some activists. But being a founder and leading official of TICAP during the last months of his life, Gian gained the well-deserved and undisputed recognition as a father and a leader of our movement.

The convinced libertarian, who also translated works of the classic liberal thinker Bruno Leoni into English, never limited himself to the issue of tobacco. He always saw the big picture of the crusades against the smoking, the eating, the drinking and underlying structures. Besides all that, Gian became a true friend of many of his fellow fighters. It was a pleasure to work with him, a warmhearted and humorous human being.

His legacy is a collection of texts and videos, and a spirit that lives on in many of us. We can learn from Gian Turci that we must make sacrifices for our beloved freedom. That we have to fight the scientific and institutional corruption and not just its symptoms. That we need discipline, coordination and resources.
"Smoking has become my flag of freedom, my symbol of defiance. Lighting up in front of a no smoking sign anywhere in the world is an affirmation of my freedom and individuality. And if this makes me a criminal, so be it. […] I will spit back at those who spit on me, and laugh at their lies. I will not recognize the Masters' authority, whether they calls themselves State or Non-smokers. I will not lick their boots. I will not quit smoking to fit the 'new order', and if I were a non-smoker, I would rush to buy a pack of cigarettes." (Gian Turci, 1999)
An earlier version of this text was published here.