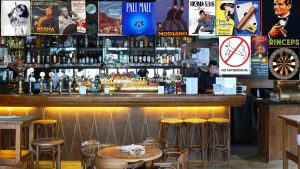 The English blogger and virtual host of the Smokydrinkybar Frank Davis has unexpectedly passed away.
Frank has been tirelessly filling his blog with new information, assessments and opinions since 2009, most recently a few days before his passing.
The reason for Frank's journalistic activities was the statutory smoking ban in Great Britain, which is of course embedded in tobacco control in general and linked to other elements of the health dictatorship. In his second blog post Frank aptly stated:
"The smoking ban is not just about smoking. It's about freedom and democracy and accountability. It's about science and risk and health and medicine. It's about truth and justice. It's about friends and communities and social inclusion and exclusion. The smoking ban is about everything. It is connected to everything. "
And so it is fitting that Frank's last entry ("Living in an over-regulated, over-taxed, brainwashed prison camp") deals with climate alarmism, covid and public health as new religions. His thoughts on many topics, often in the area of paternalism and dumbing down the people, were read by interested people around the world. Over 200 (!) of his texts from 2015 and 2016 can be found translated into German on our website. Frank also added articles to Smoking Bandits, our multilingual international blog.
The retiree, who was in his early seventies, also implemented a practical project in 2017 that has continued successfully to this day. Frank's virtual "Smoky Drinky Bar" is an online bar where you can smoke to your heart's content. Especially on Fridays and Saturdays, 'guests' meet in the video chat room for a social get-together across all time zones. On a European evening you can talk to Americans who are in the afternoon and New Zealanders who are attending at breakfast time, preventing the imposed isolation that smokers – long before the covid transformation – experience, especially in places where there are total smoking bans in facilities such as hospitality venues.
Frank brought together smoking activists and created friendships across the world. In 2017, Netzwerk Rauchen held a virtual conversation with Frank Davis at a federal members' meeting.
We mourn the loss of a committed friend who is world-famous in our circles and encourage everyone to be inspired by his blog.
This article was originally published in German by Netzwerk Rauchen.