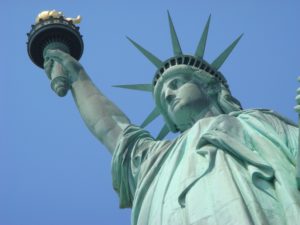 I live in Long Island, a suburban area adjacent to New York City. New Yorkers pride themselves on their grit, toughness and sophistication. The "City that Never Sleeps" is also known for its cosmopolitan recreations. You can find food from anywhere on the planet and night spots to please any and all tastes here.
New York's reputation as a place where "anything goes" reaches back to colonial times. In contrast to staid, Calvinist Boston, New York's pragmatic Dutch origins as a trading center (rather than a putative haven for those fleeing religious repression to impose their own theocracy) meant a much more secular and tolerant atmosphere.
So it was a particularly bitter pill to swallow when New York mayor Michael Bloomberg unveiled plans for a ban on smoking in all public places. Prior to Bloomberg's reign, smoking bans had largely been associated with places like granola-crunch California (mocked by New Yorkers for its obsessive healthist culture, among other things) and true-to-its-Puritan-roots Massachusetts. The first place I ever visited where one couldn't smoke in a bar was, appropriately, Salem, a little northeast of Boston and famous for its 1692 witch hunt (20 people were killed. I know–paltry by European standards).
Mayor Bloomberg didn't make the ban part of his campaign platform. The billionaire candidate's ads just said he had a "plan" for the city, without any specifics. Once he was elected and voiced his determination to ban smoking in just about all public places, including my beloved bars, I made several calls to his press secretary, one Jordan Barowitz, inquiring as to why Bloomberg had not openly called for a banishment of smokers while running for office, especially if it was, as he claimed, "the most popular thing we've done". I never got a response.
(Interestingly, Bloomberg is now running for President, pouring his money everywhere to get the Democratic Party leadership to bend rules about who qualifies for debates and primaries. It's quite a frightening time in the US, as we're confronted with the possible specter of two very rich and very unpleasant individuals competing to buy the Presidency. Bloomberg is NOT campaigning on his glorious triumph in making New York a city hostile to smokers, which tells me the "smoker vote," usually totally absent from any public discussion, may be a reality.)
The ban went into effect in March of 2003. To add insult to injury, the Legislature of New York STATE passed a similar ban in mindless, rubber-stamp fashion about a week later. Now there were only a handful of places one could enjoy tobacco indoors, most of them cigar or hookah bars, grandfathered because a certain percentage of their income is dependent on tobacco sales. Supposedly, other establishments could apply for exemptions, but I know of none that have done so, or at least none that have been rewarded with an exemption. I suspect they've made an exemption pretty much impossible to get.
Outside the city, I know of no place one can smoke indoors while enjoying a drink. As there's more room in the suburbs, some places have outdoor bars or backyards, which are nice in warm weather. So I commute about an hour and a half to enjoy life the way I see fit, and I save my money to travel to places where things are more reasonable (currently the nearest is Pennsylvania, which has a far more liberal exemption policy, so even small towns have at least one smoking bar. Of course, that's too tolerant for some and there's a perennial effort to clamp down).
With a few exceptions, I have not purchased cigarettes in New York State since the ban went into effect. If New York wants to wage war on me, I'm not going to help pay for the bullets, as I would by paying state cigarette taxes. I go out of state or out of the country for them, or ask people whom I know are traveling to pick them up for me. Tax-free cigs are also available on Indian reservations (as they're theoretically not part of the state). I have also on occasion bought from individuals approaching me at bus stops. As I am a relatively light smoker, this is sufficient for my needs.
At the time the ban was approved, I was living in New York City, in Brooklyn, and my City Council representative was one Bill DiBlasio. I called his office to urge him to vote against it. I called back the day of the vote and was told he had indeed voted for it. There were post facto assertions that Bloomberg had threatened that any Council member voting against the ban would inspire Bloomberg to donate one million dollars to the campaign of their opponent in the next election.
New York's mayors are limited by law to two terms, but Bloomberg similarly used his considerable wealth and influence to extend term limits and buy his way into a third term. When that finished, he was succeeded by none other than Bill Di Blasio, whose administration has carried the torch by banning smoking at city parks and beaches. As I write this, there are attempts to ban smoking in public housing and, in a new and repulsive development, legislators in suburban Suffolk County are trying to ban smoking in all apartments and attached houses.
Update: As I write THIS, all bars and restaurants in New York State, as well as several neighboring states are shut down, in response to the coronavirus. Governor Andrew Cuomo was on TV earlier today saying how he was glad he got other states to go along so people couldn't "shop for jurisdictions", i.e. cross a border to escape restrictions. It looks like, for the time being at least, all of us, smokers and non, will have to go without social life.
Silver lining: After a poor showing in several primaries, Mike Bloomberg withdrew from the race. His money, however, continues to influence Democratic Party policy. I've heard two of the three remaining candidates have pledged to ban vaping should they be elected.