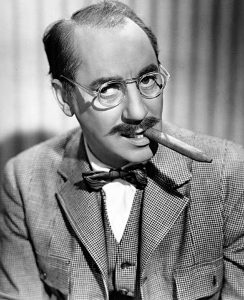 Among the indispensable attributes in caricatures of the ruthless capitalist was – next to top hat and pinstripe suit – always a cigar. Although the greedy bloodsuckers and their political accomplices in reality no longer resemble this, you can still find this type in current cartoons, for example, here and here.
A fact that is conveniently brushed under the table is that even inconsiderate communists relished the cigar. Who does not immediately think of Fidel Castro and Che Guevara? Even their forefather Karl Marx was known to be smoking like a chimney, indeed, so many cigars, that he, by his own admission to his son-in-law and comrade Paul Lafargue, feared the "Capital" would not bring in "half as much as I paid for the cigars that I smoked while writing it ".
That this must have been a truly considerable amount is easily recognized by the fact that Marx's cigars, evidently the worst that tobacco factories dared to produce, were literally widely feared for their olfactory properties. Anyone who has burned wet leaves together with mouldy woollen underwear in a closed room can guess why people in Marx's environment often tried to hide his stock, which was as futile as similar measures taken in the house of Lafe Marx, the grandfather of the Marx Brothers. He rolled his cheroots out of the waste of an obscure cloister and often stuffed this mixture without further detours into his pipe.
"If Lafe wanted to have a room all to himself, all he had to do was enter it with his pipe. The slightest whiff of his miniature incinerator made everyone jump up and rush for fresh air. Any skunk in the country could have learned a lot about pungent odors from Grandfather's pipe. We often hid his pipe, but grandfather found it by it's smell every time." As wrote Groucho Marx in his memoirs.
This would not have been different with Karl, but certainly different for another Marx with a preference for rolled tobacco, the Baroque bishop Reinhard Marx, whose cigars may well have been of superior quality – in the face of his lavish monthly salary paid by both the faithful and the unbelievers – than the cheroots his namesakes smoked. However, the cardinal, archbishop and chairman of the German Bishops' Conference as well as being a vehement critic of capitalism, does not show himself in public smoking a cigar because of the image. Neither does he on the, wear his otherwise obligatory pectoral cross on Jerusalem Temple Mount, out of courtesy to Muslims present. But that is another story.
Posing with a cigar does not work
"Sometimes a cigar is just a cigar," Sigmund Freud once said, himself a fan of a fine smoke; he thus alluded to the symbolism of this phallic and power-suggesting subject. In fact, with the interpretation of things one can exaggerate, too. That the cigar connects to certain associations is not its fault. Its elongated form is the optimal shape for an object that one wants to put into one's mouth for "consumption". The Caribbean Natives already knew this, and their strange custom of smoking astounded the Spanish conquerors. Today, sausage and chocolate bar manufacturers and ice-cream style freezers know this, and even a cauliflower lipstick would not be a product with a future. I see male impersonation much more with photographers, who strut around with oversized telephoto lenses where a modest 200 mm zoom would suffice, than with cigar smokers. There is no question that posers with cigars exist, they lack everything that makes a real aficionado like Zino Davidoff, who formulated the supreme law for the connoisseurs of cigars: "Above all, in particular: smoke unobtrusively."
"Where you can smoke, you can calmly stay, evil people do not smoke cigars." It's a nice saying, but is it really true? Unfortunately no, just as little as it is true that bad people have no songs. It is understandable that the often hostile to one another cigar smokers want to create a kind of community feeling with such verses, which for a while went as far as even women posing for a magazine cover having been unceremoniously pushed a – usually unlit – cigar into their manicured hands. As if to say: You see, the other half of humanity also loves Havana & Co. Beautiful appearance. Sure, there are also passionate cigar lover ladies, but if you're honest, you find these as rarely as you find a wallet on the street.
There has to be a good tidy up in this false Aficonado universe of sexy women and sympathetic men. Why not finally face reality and introduce villains smoking a cigar?
Black Pete
Clearly attributable to the rogues is the character that appeared for the first time in 1928 as an antagonist of Mickey Mouse, and whose devious nature can readily be recognized by the multitude of names under which he repeatedly made his ugly appearances. Besides Black Pete we would have Pete, Peg-Leg Pete, Big Bad Pete, Kater Karlo or Pietro Gambadilegno. One suspects: the man has something to hide, namely himself. Because if there is a guy in Duckburg, to whom the Beagle Boys are no match, then it is this bad guy, a guy to whose trademark of an – only sometimes existing(sic!) – wooden leg was added one thing above all: a cigar. He keeps it always completely chewed in the corner of his mouth and leaves it there when he speaks. His life as a rogue takes on more and more criminal traits over the years, which finally culminates in the role of a Nazi spy who works for the notorious Gestapo chief von Wiesel, being fortunately unmasked in 1943 by Mickey Mouse. Black Pete is virtually a prototype of a rogue; even if he once in a while works in a supposedly honorable job like that of a sheriff, a construction worker, or a cowboy, there is only one reason for him doing so: to indulge in crime and wickedness. Black Pete has always remained true to himself, and he is bitterly wronged when his name appears only at number 20 on the list of the biggest villains in comic history, far behind by Daffy Duck and Eric Cartman.
General Jack D. Ripper
It is early 1960s, US Air Force General Jack D. Ripper commands an air force base somewhere in the desert. It turns out that Ripper is mentally even more deranged than other military people, in short: he has not got all his marbles. Unfortunately, he has command of B52 bombers, which are in constant surveillance above the Soviet Union. Ripper, convinced that the Russians are attempting to disintegrate the "precious bodily juices" of the people in the US by causing infertility of its inhabitants with poisoned drinking water, hermetically seals off his base one day and issues the atomic attack order against the Soviet Union. The end of the world takes its course…
Stanley Kubrick shot the bitter movie Dr. Strangelove or: How I Learned to Stop Worrying and Love the Bomb in 1964, at the height of the Cold War. Prior to this, there had been the Cuban Missile Crisis and the Berlin Wall, and the danger of a nuclear, back then final, world war, was looming over East and West. The film shows mercilessly how even sophisticated security mechanisms for preventing an "erroneously" issued attack order can fail or even prove to be exactly the reason for the horror then happening.
The actors are terrific. Peter Sellers excels in three roles, as Group Captain Lionel Mandrake, as American President Merkin Muffley and as Dr. Strangelove, a German scientist who lives up to his name. George C. Scott plays General "Buck" Turgidson, who basically has nothing to complain about in the war against the "Russkis" and who is only mad at his colleague Ripper because he triggered the crisis that screwed up a shag with a secretary named Mrs. Foreign Affairs. And Sterling Hayden plays General Ripper, whose outstanding attribute is a cigar that has never been portrayed as phallic and warlike in any non-XXX movie like here by Kubrick. The cigar symbolizes Ripper's fear of impotence and the aggressiveness resulting from this against the alleged causers. There really is no doubt about it in this scene.
If one watches the timeless masterpiece Dr. Strangelove today, one cannot shake off an uncomfortable feeling that all of this could still be possible because, as Jim Morrison once wrote: "Madmen are running our world." Stop, no, not everything would be contemporary: Nowadays, it  most certainly would no longer be allowed to smoke cigars in US American nuclear bases. And one more thing has changed. Meanwhile, Madwomen are at work, too.
Gerhard Löwenthal and Karl-Eduard von Schnitzler
For some he was a rogue, for the others he was the last medial bulwark of the west against the ruin behind the iron curtain. From 1969 to 1987 he led and presented the "ZDF-Magazin" on West German television, and in it he offered everything that could be blamed on the perfidious East-German regime.
On the other side of the wall, this role of propagandist was reversed by Karl-Eduard "Besmirching Eddie" von Schnitzler, and the two cold warriors were the same. In the West, the "ZDF-Magazin" itself was cult for some lefties, because hardly anyone could portrait the villain from the West so convincingly, if not involuntarily funny, as did Löwenthal, about whom there was the wonderful joke: "'Hello, Mr. Löwe!' 'My name is Löwenthal!' 'Well, here's how fast I switch off your program.'"
Both Löwenthal and Schnitzler appreciated a good cigar; at least that united the otherwise hostile gentlemen, who both belonged to the same generation and both died almost at the same time (Schnitzler in 2001, Löwenthal in 2002). Löwenthal's passion for cigars passion was made public in the whole of the FRG due to a mishap. In an episode of the TV show, he had, apparently during a film review and therefore not in the picture, relished a cigar. He missed the end of the film review and reappeared on the screen, the smoking cheroot still in his hand. Quickly Löwenthal let it disappear underneath the table, but since he had just taken a deep drag, he had to release the smoke non-verbally before beginning the next presentation – which presented a wonderful picture. For a moment, one could believe that Löwenthal definitely had ignited. Thanks to Youtube even nowadays one can still watch this little villainy with amusement.
Groucho Marx
A rogue, as described in the rogue textbook. Even this more than dubious character uses numerous different names for his felonies, including Rufus T. Firefly, Captain Jeffrey T. Spaulding, Prof. Quincy Adams Wagstaff, Otis B. Driftwood, Dr. Hugo Z. Hackenbush, J. Cheever Loophole, and S. Quentin Quale, but rarely employs a simple pseudonym like Ronald Kornblow or Sam Grunion. After all, Flywheel shows an a lot more imaginative approach to his roguery than the previously described Black Pete; his alleged professional qualifications as a doctor, hotel director or lawyer show that Flywheel moves in different social circles to Black Pete. The financial prospects for the villainy are accordingly, and he stops at nothing.
He prefers leeching of wealthy, elderly ladies, whom he scrupulously pretends to love and honor them until death does them part. Flywheel supports his undisputed charm with his quite serious demeanour, supposed professional qualities as well as clever outer camouflage, which includes an impressive hair growth on his face and a fat cigar – at that time clearly signs of liquidity and seriousness. The loverlorn matrons do not notice that the constantly smoked cigar probably is of the brand "Railroad Embankment", as well as the beard and the powerful eyebrows are only being painted on with only shoe polish, but the spectator, who still today, as 80 years ago, can have a great time watching the Film adventures of Groucho Marx and his brothers. Rogue or not.
This article was originally published on the blog "Achse des Guten".